Australian brands are becoming increasingly popular in China with a growing middle class of consumers seeking more 'international' products. The relatively close proximity of the two countries coupled with the fact they are on the same time zone aids this lucrative international trade.
Marketing to China it's also an Agency
We are the top and most visible Web & Marketing Agency for China you will find on the web. Our Services: E-Commerce, Search Engine Optimization, Advertising, Weibo, WeChat, WeChat Store & PR.
Contact us Today
Here are the most popular products and brands from 'down under' in China:
Beef 
The most significant Australian export to China is beef. Reuteurs reported that in 2013 half of the total amount of beef imported to China was Australian. The Chinese demand for beef is increasing as the diet of wealthier consumers changes to include more protein and a greater variety of sources.
Despite this, production has been low domestically, here pork tends to be more profitable. Quality beef is simply not produced in China currently. This creates a strong demand for overseas beef suppliers such as the 'Australian Agricultural Company Ltd' or 'Nippon Meat Packers' Australian division.
Australia has become associated with high quality beef products in the Chinese market. Jean Yves Chow, a senior livestock analyst, told Reuteurs;"there has been a bigger jump in China's beef imports from Australia because they blocked beef imports from Brazil due to mad cow disease.. China doesn't buy from the U.S because of the same issue. You don't have many options but to buy from Australia." Factors such as this established Australia as key importer of beef into the middle kingdom.
Australian beef is marketed as being a 'quality product'. It has to distinguish itself in terms of quality as it is significantly more costly. Indian beef for example is much cheaper with boneless buffalo meat offered at around $3,200-$3,600 per tonne to Vietnam.
This compares with an average price of $4,528 per tonne for Australian beef shipped to China last year, according to the U.S. Meat Export Federation.
Here is an example of Australian beef being sold on the popular e-retailing platform, Tmall.
You can see that the premium, quality of the beef is emphasized.
Baby Formula
With about 16 million births per year, China is one of the world's biggest markets for baby food and infant formula, representing around 23 percent of the $41 billion global market, according to a study published by Euromonitor International.
Concerns about the safety of domestic supplies and the circulation of counterfeit Chinese products have led to a rising demand for imported baby formula among urban middle class families.
Formula is not just imported to China but also purchased overseas, local Australian merchants have experienced an increase in Chinese shoppers purchasing baby food whilst visiting the country. The New York Times reported that a; "surge in sales of one of Australia's most popular brands of infant formula led to an unusual sight for this wealthy nation: barren shelves in the baby aisle and even rationing of baby food in some leading retail outlets".
The Chinese phenomenon of 'little emperors syndrome' may explain this Chinese desire for the highest quality baby formula. Due to the one child policy there are often large families supporting a single child, they are therefore famously spoiled and well looked after. The official message from the Chinese state to promote this style of population control has been 'one child, but of a better quality', arguably this directly leads to higher quality of Australian baby formula being purchased for the 'little emperor' too.
Here are some formula's available on e-commerce platform Tmall.
Here you can see how brands of formula are directly capitalizing on their Australian heritage with brand names such as 'Auscess', 'Augood' or 'Goldroo'.
Jacobs Creek
The Australian wine company has set out to tailor it's image specifically for the China market by partnering with the specialist branding agency 'Landor'.
Jacobs Creek is marketed in China as more upmarket, luxurious and sophisticated proposition. This is often how foreign wine brands are perceived in China and they seek to capitalize on this hallmark of quality.
In an interview with marketing magazine Landor's creative director Mike Staniford said; "we've taken the global Jacob's Creek look, which I would describe as a contemporary spin on the classic look and feel, and because it's at a more premium price point we've included more embellishment with gold embossing and a more traditional treatment." The Chinese particularly love narratives that elevate a brand and connote this sense of quality, many wine brands have sought inspiration from French wine which is very popular in China, emphasising heritage and tradition is thus key.
Maintaining a certain image and status is very important in China, it is often about 'keeping face'. By marketing Jacobs Creek as higher quality, more luxurious, wine brand they can capitalize on this consumer desire to project status and prestige. The affluent consumer wants to be seen to be drinking the best wine.
Milk
Ever since the ever since the tragic milk poisoning scandal in China in 2008 that killed six children and left 300,000 seriously ill, the middle kingdom has had a mania for the Western product. Australia are cashing in on the increasing demand for quality and safe milk products in China.
China lacks it's own dairy industry and has turned to other nations such as Australia to meet the growing demand for dairy. The BBC reported that 'Chinese tariffs on Australian dairy products that currently range from 10% to 15% will be cut over a period of four to 11 years'. There is evidently a strong financial incentive for the Australian dairy industry.
The Chinese traditionally have not consumed high quantities of milk, many Chinese in the past are thought to have been lactose intolerant because dairy was not included in their diet. Times and tastes have changed however in China with more consumers, especially the younger generation, now consuming more dairy and milk based products.
ABC reported that; "in the past two years, Australian dairy companies have spent or plan to spend more than $1.5 billion building new or upgrading existing dairy factories." This up scaling is largely aimed at production for the export market in Asia with China a main focus.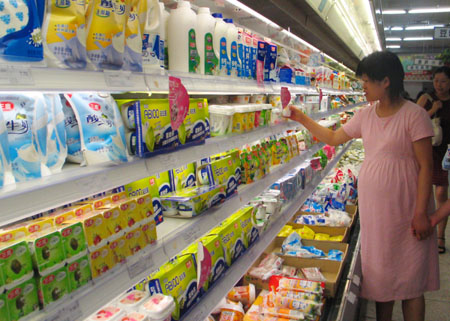 UGG Australia
The UGG boots brand are a strong global proposition, China is no exception.
Here is their website in China, the branding is again more upmarket, the product is marketed as being more luxurious in the middle kingdom. The USP of an Australian brand from overseas is that it can differentiate itself from the fake, counterfeit products that often circulate in the Chinese market. Being an international brand in China thus lends itself to this more upmarket style of branding, the Chinese consumer will pay a premium for genuine, branded products that they trust.
In this image ancient aboriginal culture is perhaps referenced by the style of design.
It is clear that this is a lucrative market for Australian brands to capitalize upon. We are digital marketing agency based in Shanghai, China. If you are seeking to enter into the Chinese market and are looking for specialist help or advice please do not hesitate to contact us.
For more information on our agency see here.
See our previous article on what Chinese consumers want from luxury brands.
For an article on popular British brands in China see here.