The Chinese student market is the largest in the world with more Chinese students studying abroad than any other nation on earth. According to data from China's Ministry of Education, 459,800 Chinese students went abroad in 2014, an 11.1% increase over the year before. Of those, 423,000,  or 92% were self-funded.
Studying abroad is an expensive option and this 'self funding' reflects the emerging Chinese middle-class family's desire to send their children abroad for the best education, despite the costs. It also reflects the increasing demand for international experiences, ideas and culture in China.
The US, as well as the United Kingdom, are the most popular educational destinations. Other popular destinations include Canada, New Zealand, Australia, Switzerland, Singapore, Germany and France.
Often the traditional, western style of branding universities adopt is irrelevant to the Chinese market. The messages attempting to be communicated can be seen as invalid or simply misunderstood.
Marketing to China it's also an Agency
We are the top and most visible Web & Marketing Agency for China you will find on the web. Our Services: E-Commerce, Search Engine Optimization, Advertising, Weibo, WeChat, WeChat Store & PR.
Contact us Today
The visa process is an obstacle
A difficulty for students is often the overcomplicated and bureaucratic visa process they face. The process of applying for and obtaining a student visa should be made as simple and efficient as possible with time allowed for students to find work after they complete their studies.
Presence on Chinese search engines
Potential students are likely to first search for top universities in a certain subject on 'Baidu', the leading Chinese search engine. They are unlikely to search for a specific university.
It is vital that you are a top search result. To achieve this you need to intelligently engage in 'Search Engine Optimization' or SEO. Follow a coherent strategy to increase your presence on 'Baidu' after a user has entered certain keywords or phrases.
The type of website visitors will most likely be referred to are those of agents where there is very little discrimination between the offer of one establishment and another. Therefore, you need to market yourself to the Chinese effectively to stand out.
Adapting your marketing style for the Chinese student
A University website should be created and adapted for the Chinese market and therefore translated into Mandarin. For a university site aimed at the Chinese market to be effective, it has to be selective in its choice of featured people, places and 'products'. Facts and accompanying messages about your university must be evidence based as well as presented, as
Paul Hoskins
argues, in a 'culturally-nuanced layer of understanding'.
Promote your best courses and be prepared to adapt them
If you are consistently rated highly in a particular subject then use this as a 'springboard', focus on promoting what you specialize in. Chinese students want to study at an institution they perceive as being experts in their chosen subject.
It is important however not to assume that your existing educational program will be desirable in China. You will likely have to adapt courses for the Chinese market. An example is to ensure that a required or featured module in any program aimed at Chinese is 'Business' or 'Management' related, these subjects are very highly valued. Adding information about famous Chinese alumni, or lecturers is effective.
Be present on Chinese digital channels
Social media has become essential to the Chinese individual's life. Utilizing social networking platforms such as 'Wechat' or 'Weibo' in order to sell products and services is key when marketing in China. Universities are now taking advantage of this trend too.
Through a social media strategy, universities can market directly to potential Chinese students. You need to create accounts on Chinese social media platforms and take to time to understand how these social networks work, the same social media strategies you would employ in the west cannot simply be transferred. Different social networks mean adopting different, more localized and specialized marketing strategies.
Starting and facilitating group chats concerned with your university or courses you offer can be effective. Direct communication with students on social media is important. It is also a good opportunity to disseminate interesting content and articles in Chinese that can be shared amongst users to generate more interest in your establishment.
For more information on how to market on social media see our previous article.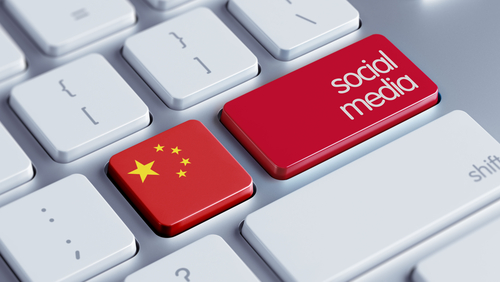 Manage your e-reputation in China
Managing the reputation of your university in forums and on social media is vital. The Chinese are especially influenced by the views of others, particularly by their immediate social circle. Manage your reputation by promoting positive comments on social networks and in forums.
The Chinese student will want to study where other Chinese students are going and at institutions, they rate highly. The reputation you have domestically does not necessarily dictate how your establishment is perceived overseas, especially as the Chinese student will have a unique set of expectations, priorities and needs that need to be adapted to and catered for.
Encourage lecturer and student exchanges
Plan and implement an effective digital strategy by promoting reputable lecturers or alumini online and then look to recruit them for marketing purposes. Word of mouth recommendations is also vital. 'Star' lecturers could physically travel to provinces in order to build and strengthen relationships with Chinese academics and institutions. Encourage staff and student exchanges to forge partnerships and build upon your digital reputation.
Understand and target regions specifically
China is essentially a diverse continent, you need to understand students from different regions and what they are looking for. Targeting the whole of China is unrealistic, it is more effective to build and establish links with educational institutions in certain regions. Using specialist firms that know the specific regional preferences and desires of Chinese students is important.
Further reading:
For more information on how to attract Chinese students see our previous article.
For an article about how Chinese exchange students are boosting the American economy. Click here.
See our previous article on how London is the top destination for Chinese students.
Digital is key to attracting Chinese students, see there